Ecclesbourne Valley Railway - May 2014
---
The Club supported a 'Fun Day' outing at the Ecclesbourne Valley Railway on Saturday 10th May using the call G2DJ. This year, the weather was kind and the two events in May were helped by pleasant sunshine. The plan was to erect the Club large gazebo. However, we abandoned that idea after finding a crucial component missing!
The photo below shows early morning frenzied activity prior to setting up the station. We later erected two dipoles; one for 40m and another for 15m.
The club operated on 7.0 MHz and the higher bands. As per usual, the band conditions were good in the morning with plenty of activity up to mid afternoon when most amateurs break for a siesta. A good time was had by all who attended.
The Club later returned to Duffield junction on 24th to 26th May, Spring Bank Holiday, to operate a station from the guards van at Duffield Station in support of the Ecclesbourne Valley Railway. This corresponded with Wirksworth Carnival Weekend making it a busy day with plenty of the public travelling between Duffield and Wirksworth. It proved a nice day out for the family with good weather, a chance to play radio and an opportunity to natter to people in general.



Wirksworth Carnival Weekend - May 2013 (Ecclesbourne Valley Railway)
---
Having had the disappointment of not being able to operate from the Duffield Station of the Ecclesbourne Valley Railway in Derbyshire over Easter due to the sub-zero weather, it was most pleasing to be able to set up G2DJ, one of our club callsigns, inside a Guards Van up by the buffers during the Spring Bank holiday in nice warm, even hot, weather.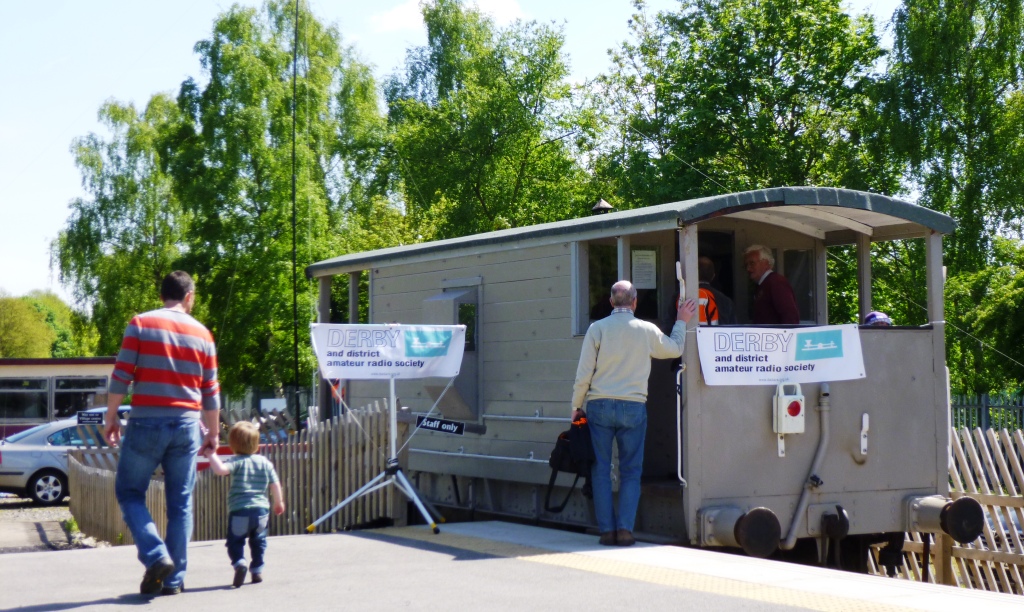 The Guards Van is actually owned by Tim Oates who has done a magnificent job of restoring this from what was a bare shell. As all restorations this is 'work in progress' and I'm sure we'll see changes made over time. A big thanks to him for allowing us it this year. It's even equipped with wood-burning stove so if we operate at Easter next year and it's as cold as it was in 2013, then at least we should be able to keep warm! And it'll boil a kettle!
There was quite a bit of interest shown from the passengers on the platform either waiting to go to Wirksworth or coming from Wirksworth to Duffield. A handful of our own members popped in to say hello and to check out the guards van.
Yes, we do hope to operate from Tim's guards van again but whether we can later this year or Easter 2014 we'll have to see. Thanks go to the Ecclesbourne Valley Railway (EVR) for organising the guards van being put in place and for allowing access to their facilities. So – not too many contacts but good PR for the Society.
Dave, G1VAB
Easter at Ecclesbourne Valley Railway - Duffield Junction 2012
---
In celebrating the first anniversary of the re-opening of the railway line from Wirksworth to Duffield, the people of the Ecclesbourne Valley Railway had allowed us to
put up our Clubs gazebo at the end of their platform. There we put up dipoles for 40m and 20m and a collinear for 2m FM and GX2DJ went on the air.
Saturday we didn't do too badly, not forgetting we're there to also publicise amateur radio and not to work stations and ignore the public. Regrettably we weren't able to operate on the Sunday due to a lack of operators, but we were able to put the station back together again on the Monday accompanied by almost incessant rain. Bands were suffering badly so our using an end-fed aerial wasn't able to be fully appreciated. As the railway lock their station and facilities as soon as the last train leaves to return to Wirksworth we had to have everything packed away 'PDQ' having worked 26 stations over the two days of operation. Given the fact that our waterproof gazebo wasn't and we had mains electricity in there as well as radios, we did well to work that number due to having to move equipment about to get away from the drips! What a rotten day.
Thanks go to the folks who turned up to assist, and especially the folks of the EVR for making the weekend unforgettable.